How does it work?
Browse the speakers – get an idea of what our speakers can offer
Decide what you want – what, when, where and how?
Fill in the Speaker Request Form
MYAN WA will confirm a speaker
MYAN WA will put you in touch with a speaker
You liaise with your speaker about the event.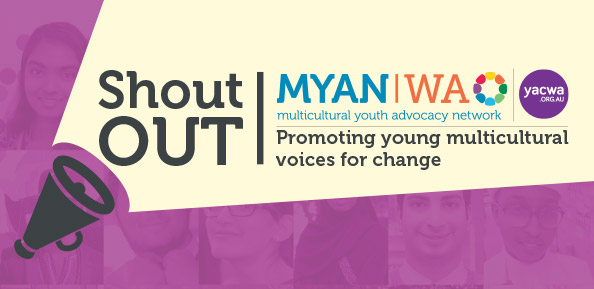 It provides an opportunity for inspiring young people to develop skills in public speaking and media relations on topics they feel passionate about.
While there are many specialist voices willing to talk about youth issues, we think it's often more insightful and meaningful to hear from the real experts – young people.
If you have an event, conference, workshop or meeting that would be enriched by a multicultural young person speaking passionately about a range of subjects, Shout Out can help. 

Apply to become a speaker
About Shout Out
Why Shout Out?
Young people from migrant and refugee backgrounds have a wealth of unique perspectives and fresh ideas to contribute to Australia's rich diversity. However their voices are often stereotyped, marginalised or invisible in mainstream culture and this can damage their ability to feel like they belong.
Shout Out is an opportunity for young people to redress the balance and present their stories and experiences to audiences that may not usually have the chance to hear them.
Who is it for?
Our speakers have been trained to deliver fresh, engaging and thought provoking perspectives for a range of settings across Perth including:
Schools
Local Councils
Community events
Business and Corporate Sector
Community organisations and groups
State and Federal Government Departments
Our Speakers
Present on topics from their perspectives and experiences
Act as emcees for events
Deliver keynote speeches
Act as panel members
Provide comment for media outlets
Examples of Topics
Multiculturalism / Cultural Diversity
Education
Refugee Experience / Journey / Settlement
Asylum Seeker Experience
Participation / Volunteering / Leadership
Racism / Discrimination
Bullying
Identity and Belonging
Health and Wellbeing / Mental Health
Sport / Recreation
Empowering Women
Justice and Police
Drugs and Alcohol
Family Violence
If you would like to learn more about the Shout Out Project and our speakers, visit the Shout Out Blog.
Meet Our Speakers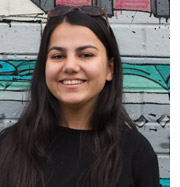 Tamkin Essa
Tamkin is an outgoing journalism and international relations student, who works part-time and still manages to carry the prestigious title of 'Full-Time Afghan Extraordinaire'. She has an admirable passion for human rights, helping others and a projectable voice that does not go unheard. In her spare time, she enjoys nothing more than being an Aunty and a good role model for others.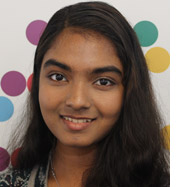 Rasa Islam
Born and raised in Bangladesh, Rasa uses her personal stories and experiences to advocate for diversity in Australia. She is currently studying biomedical science at UWA and is a great art aficionado, exhibiting her work in Perth and Bunbury. Rasa strives for personal and professional excellence in the future alongside impactful contribution to the society.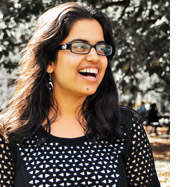 Parul Goplani
Parul is a volunteer, health science student and receptionist by day…and an avid reader by night. Her volunteering and work commitments see her actively invested in the socio-cultural, educational and developmental side of the Australian community. In her free time she enjoys food tastings, watching Netflix and talking about the world.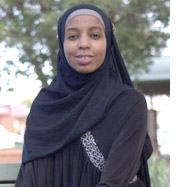 Amran Abdi
Amran Abdi is extremely passionate is a 21-year-old single mother who's a part of the Shout Out speaker's bureau- an initiative spearheaded by the youth Affairs Council. Amran uses her experiences as a young, Somali, Muslim women to bring about understanding of the many cultures and communities she belongs to. Amran has recently self-published her first Children's book entitled, 'The Rainbow Hijab' which follows the tale of a young girl who upon losing her favourite Hijab uncovers the value her colourful companion holds. Through her book, Amran aims to bring about positive dialogue surrounding the hijab. As an Early childhood educator, Amran is passionate in playing a positive role in shaping tolerant and enthusiastic "little people".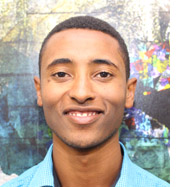 Yosef Asresse
Yosef was born in Sudan and his heritage is Ethiopian. Yosef is a business student at Curtin University, who is passionate about inspiring the youth and bringing out their full potential. One of his greatest achievements was representing Tasmania in soccer at the Australian Institute of Sports and being selected in the All Star squad at nationals in Futsal. Though still passionate about soccer, Yosef now focuses on his personal development and university studies.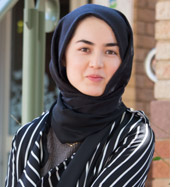 Shakila Mohammadi
Shakila is very passionate about human rights, and education. Shakila grew up in Afghanistan where most people do not have the opportunity to obtain an education, and she believes that education is the potential power. She is currently a diligent university student and is constantly participating in events related to migrants and refugees' rights. Shakila is also involved in WA university students associations; helping and supporting first year university students from migrant and refugee backgrounds in achieving a higher education.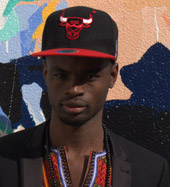 Musa Kamara
Musa is an enthusiastic and energetic speaker who loves to inspire others to reach their full potential. Musa has a very creative mind and loves to incorporate his interest for fashion, dancing and storytelling into highlighting the many challenges faced by young newly arrived Australians.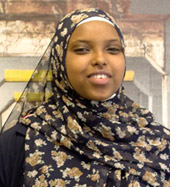 Anisa Mire
Born and bred down under, Anisa is a young Somali Australian, enthusiastic about community growth and development. By pursuing her passions in Anthropology and Sociology she hopes to be a catalyst amongst fellow young people of colour to pursue their own ambitions in their plight for a better life.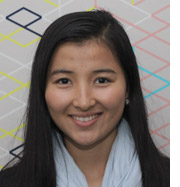 Wahida Samim
Wahida is a witty and ambitious Afghan Australian who is passionate about women and girl's education. She has been influential in the establishment of Salsaal Integration Association and has been active in encouraging girls to become more engaged in the community. Her ambition is to live in a world where education is a reality for all. She considers herself optimistically realistic and is a believer of the theory, give me a good mother and I will give you good nation.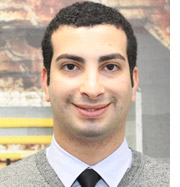 Hossein Bouazar
Hossein is a young Ahwazi refugee who arrived in Australia late 2012. He completed his Diploma of Information and Computer Technology Networking whilst learning English. Students from schools around Western Australia find him and his story inspiring. He likes to use his story of migrating to Australia to explain how important freedom and democracy are. He is currently employed by Kolbe Catholic College as the Information, Communications & Technology Systems Officer.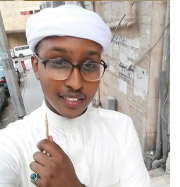 Samatar Geyre
Samatar is an MC and active ambassador for CYALA (council for young Africans living abroad). He is particularly driven by his passion for issues regarding culture and identity. Samatar aims to provide a platform for young Australians from different backgrounds to be able to navigate their identity and cultural issues in a productive, positive and empowering manner.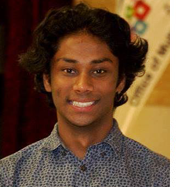 Vithan Thillairajah
Vithan is a stoic character who from fleeing the hostility of Sri Lanka, has overcome many challenges here in Australia including racism, bullying, learning difficulties and the subsequent low self-esteem and confidence issues that coincide. Through sharing his story, Vithan instils hope and belief to the people around him. He's also passionate about finding one's identity and the importance of education and mental health. He is studying to be a doctor at the University of Western Australia and volunteers with various organisations in his community.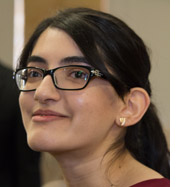 Fatema Shalemie
Fatema is a political science and international relations major who is also learning French. She preaches for positive change in the realm of social justice and lives to defy stereotypes. Her aspirations are to become a journalist, reporting on the socio-political influence that war has on migrants and the plight of refugees across the world. Her Afghan heritage has influenced her as a self-proclaimed kebab critic and having been raised as an Australian citizen, she identifies as a toasted sandwich connoisseur.