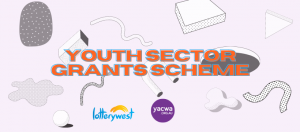 The Youth Affairs Council of Western Australia (YACWA) is once again administering the Youth Sector Grants Scheme.
Operating as a devolved funding program through funding from Lotterywest, this Grants Scheme will enable YACWA to provide financial support to deepen youth engagement and improve mental health and wellbeing outcomes for young people (aged 10 – 25 years) in Western Australia, who may need it the most.
The program is underpinned by the Western Australian government's Beyond 2020 – WA Youth Action Plan focusing on capacity building and social support for traditionally under-represented groups, including but not limited to:
Young people with a disability
Young people from Culturally and Linguistically Diverse (CaLD) communities
Young people in the regions/rural communities
The funding was peer-assessed by a panel external to YACWA's direct team of staff, comprising a mix of young people with diverse backgrounds and experiences, alongside a selection of long-term youth sector workers.
Some of the feedback from the panel members we captured included:
"… what an incredible opportunity!"

"It is amazing how this organisation is volunteer run…"

"Fantastic and detailed application…"

"…a fun project to do on school holidays!"

"Love the partnerships developed within this project… It's aiming to break down geographic limitations to accessing existing services and there's a demonstrated need from within the community."

"So many community groups involved!! So much proven engagement from such a small community!!"

"Funds a number of events activities generated by a youth reference group…"

"…It's got the whole shebang – skill development, empowerment, able to pivot to the needs of the individual young people, wrap-around support, the ability to result in advocacy and change, capturing and celebrating culture, creating connections to others…"
YACWA is now pleased to present the following organisations with funding:
Organisation
Project Name
Project Overview
Region
Albany Community Legal Centre Inc
Youth Law Connect – Young House
Providing crucial legal services to the residents of Young House, a refuge for young people experiencing homelessness or who are at risk. Working alongside the existing support system at Young House, our team of lawyers and advocates will deliver regular services based at the refuge. This program will assist these young people to understand their legal rights, navigate the legal system, and access justice.

Great Southern
Australian Deaf
Sport Federation
WA Deaf Youth Sport and Recreation Development program
Encouraging participation in sport, recreation, and physical activity for young deaf and hard of hearing children, teenagers and young adults; supporting pathway opportunities to become involved in WA Deaf Sport clubs, Australian Deaf Games, International Deaf Sport events and also local sport clubs.

State-wide
Blind Sports
Western Australia
HiVIS: Hi Vision Impaired Sport & Recreation
Our "HiVIS" initiative will build on our Telethon supported "Let's Get Visible" after school sport and recreation program for children aged 5 to 15 years old. This new program will provide a sports and social recreation program for blind and vision impaired youth aged 16 to 25 years old. This program will enhance and build the capacity of these vulnerable youth and lead to improved mental health and wellbeing, increased physical activity and involvement in the community.

Perth Metro
Broome Youth and Families Hub Inc.
Move Create Relate
Establishing positive relationships amongst at
risk children who have been involved in the Youth Justice System. The Maindim Yangbala program uses Indigenous perspectives, mentoring, skill building, teamwork, and this project aims to utilise social media platforms to promote legal messaging for young people to help build sense of self, respect for each other and the community and reduce youth crime in the area.

Kimberley
City of Bunbury
Koolambidi Woola Youth Programs
Providing support to young people to access mental health or crisis services as required as well as for general support within the new youth precinct Koolambidi Woola.

South West
Enabling Potential Youth Advisory Group
Enabling potential in ADHD young people waiting for
assessment and treatment
Co-production of a program to address the needs of young people in WA who are awaiting ADHD assessment, diagnosis, and/or treatment. Through capacity building and social support, this program has the potential to empower and support a young person when they often endure the wait relatively unsupported.

State-wide
Financial
Counsellors' Association of Western Australia
Financial Literacy Community Education Package for Young People
This project will help young people in WA to improve their financial literacy and access to financial counselling services. It involves creating an education package to improve their knowledge and skills in personal finance, ability to manage money, sense of confidence and empowerment, and access to support.

State-wide
Food, Fibre & Timber Industries Training Council (WA) Incorporated
Sewing Passion into Fashion
A targeted training program designed to engage at-risk youth who are disengaging from the school system due to learning barriers, social disconnect, and social disadvantage. The program aims to provide young people with the opportunity to earn a nationally accredited qualification while equipping them with valuable skills and a sustainable approach to fashion.

Perth Metro
Furthering Autistic Children's Education and Schooling Inc.
Providing Support for WA Children with Autism and their Families for Success
in Education and Beyond

Supporting children with autism to ensure their long-term independence through access to quality education and teaching necessary social and emotional skills to navigate the world.
Perth Metro
Hello Initiative
Court Breakfast Program – Regional Pilot
Providing young people and their families who are awaiting court appointments with a free breakfast, supporting improved behaviour and engagement for young people at court who may face long waits to be seen and a complex courtroom environment.

Perth Metro
Indian Society of Western Australia Incorporated
Symbiosis – A Youth Symposium
Creating a platform for youth from diverse backgrounds, ethnicities, and cultures to connect and integrate within the wider Australian community. By fostering relationships among youth, ISWA members, and associations, Symbiosis seeks to empower young individuals by giving them a voice to address their vulnerabilities and improve their mental well-being.

Perth Metro
Ishar Multicultural Women's Health Services Inc.
EmpowerHer Weekly Extension Program
EmpowerHer Weekly is a vital initiative to provide a safe and supportive space for young refugee and migrant women (15-25) experiencing family and domestic violence or sexual abuse. The program's key objectives are to foster connections, facilitate discussions on crucial topics, and empower participants to design and cultivate healthy lives.

Perth Metro
Jobs South West Inc.
It all starts here (IASH)
A targeted driver engagement program for 12 young people aged 16 – 18 years in the Youth South West Warren Blackwood (YSWWB) with further support and counselling. The program will provide a solid foundation for the young persons to work towards obtaining their driver's license in order to decrease disadvantages they face living in a rural location and improve opportunities for employment and educational options, ultimately increasing self-esteem and independence.

South West
Kids Camps Inc. TA Cahoots
Cahoots Upskill Program
A capacity building and upskilling pilot program for young people living with a disability aged 15+. The pilot is a series of weekly face to face workshops bringing together teens and young adults in a social and inclusive environment. These workshops are specifically designed for young people living with a disability to build personal and social skills, knowledge of job readiness and independent life skills.

Perth Metro
Leading Youth Forward
Big Day Out
3 & 4
Delivering a year-long, one-on-one structured mentoring program for 80 at-risk teenagers in the Perth area, including a weekend long camp, four 'big days out' and other volunteer events throughout each year to enhance the lives of these young people.

Perth Metro
Man Up WA
2024 Geraldton Mid-West Rural Initiative
Focussing on early intervention of family and domestic violence, as well as mental illnesses and suicidal ideation by aiming to transform boys into confident, purpose-driven, and emotionally capable men, volunteers will deliver three distinct peer-to-peer workshops on male culture, relationships and coping mechanisms.

Mid West
Mercy Works
Mercy Connect: Mentoring and Academic support for Refugee and Asylum Seeker Students
Addressing the barriers to education that impact student engagement in learning and the ability to reach academic, social and emotional goals.
Mercy Connect recruits, trains, and supports volunteers to assist students through classroom mentoring and support, that nurtures self-esteem and well-being while focusing on numeracy and literacy standards throughout the school year.

Perth Metro
Mission Australia Youth Accommodation Support Services (YASS)
Country and Community Connect
Developing the capacity and wellbeing of the vulnerable young people accessing the Mission Australia Youth Accommodation Support Services (YASS) by developing their connection to community and country, with an opportunity to engage in a range of culturally safe activities, which aim to raise their awareness of different cultures, their history and customs in a meaningful way.

Perth Metro
Oaktree Australia
Decolonising Climate Movements: A Refugee's Revolution
Up skilling young people who identify as those with a refugee and migrant background, the necessary tools to become leaders in climate justice. With Australia's climate movement excluding diverse voices, the training, adapted by multicultural leaders at Oaktree, intends to recognise how young refugees and migrants can utilise their own stories to lead climate justice within their communities.

State-wide
SECCA
Supporting Trans and Gender Diverse Young People with Disabilities
Co-designing age appropriate, accessible, online and downloadable resources with and for trans and gender diverse young people with disabilities including the creation of new SECCA image tiles related to TGD issues, a lesson plan, and Easy-read documents related to TGD issues relevant to young people with disabilities. These resources aim to build young people's capacity for self-efficacy and knowledge related to medical and non-medical gender affirming care; thereby allowing them to self-advocate and communicate their gender needs appropriately.

State-wide
SHINE Inspire Achieve Belong Inc.
Mt Magnet SHINE Song Writing Project & SHINE Eco-Leadership Camp
A Song Writing project for female students who are in the SHINE and SHIMMER program at the Mount Magnet District High School, providing opportunities to attend two blocks of song writing with the aim to produce a demo recording that is uniquely theirs.

Furthermore, an initiative to hold a unique cultural and educational Eco-Leadership Camp at Shark Bay for female students who attend SHINE programs in the Mid West.

Mid West
Shire of Collie
Collie Youth Day 2024
Collie Youth Day 2024 will bring Disc Golf and Street Basketball to Collie for one day in the summer school holidays as well as offer live music, a BBQ, and a movie in the park to round off the day. Collie is looking at enhancing facilities at the local skate park and wants to gauge interest in 3 on 3 basketball as the inclusion of a half court at the skatepark is a possibility. Working with Basketball WA who can facilitate the Streetball element we hope to upskill local youth and youth workers to be able to hold similar events into the future.

South West
Shire of Morawa
Morawa Youth Centre Junkadelic Art Project
Providing young people in rural communities with the chance to develop their artistic and crafting skills; raising awareness about the importance of reducing and reusing waste; and providing a creative outlet for children during school holidays.

Mid West
Shire of Murray
EmpowerME Young Women's Group
Providing young women with skills to help
improve self-esteem, make effective life choices and empower relationships, through a variety of important topics including self-compassion, healthy relationships, period education, nutrition and sexual health.

Peel
Shire of Northam
Northam Night Hoops
Providing an effective basketball programme that encourages at-risk youth in and around our surrounding areas to take part in a fun and friendly basketball tournament. The Night Hoops programme is designed to give vulnerable youth a safe, enjoyable environment where they may confide and participate in sports that will help to minimise disruptive behaviour in the community.

Wheatbelt
Sister Project Incorporated
African Youth Engagement Workshops
Providing young people with personal development workshops and connectedness to their community in collaboration with appropriate stakeholders and role models. We aim to provide a platform for young people to develop practical independent living skills, sense of safety and understanding of career opportunities.

Swan
South West Aboriginal Medical Service
SWAMS Youth Leadership Committee
Providing members with leadership and learning opportunities to build on transferable life skills such as, effective communication, project coordination and deliver community engagement activities that will enhance and enrich their future whilst contributing to community. The committee has a focus on building a safe connected community for our Noongar youth and provides opportunities for building relationships that encourage connection amongst youth, leaders and Elders in the community.

South West
Surfing Western Australia Inc.
Indigenous
Leadership Program
Introducing Aboriginal children and young people to the healthy and active lifestyle of surfing, the ocean and through Aboriginal Elders the opportunity to reconnect to language, heritage and culture. The program incorporates a strong cultural awareness component that brings together the traditional elements such as language, tools making, bush tucker foods and important song line stories that tell the past of the people and country.

Peel and South West
Swan City Youth Service Inc
TGIF Social
Providing a supportive culture and diverse range
of activities with an inclusive atmosphere for young people with a disability. This project will facilitate a group, where young people who need extra support come together and engage in activities that are stimulating and fun. The group will have options for different activities as well as preparing and sharing morning tea with each other and the staff of SCYS.

Swan
Swim for Refugees
Swim for Refugees Swim Program
Swimming lessons for refugee and asylum seeker communities by qualified swim teachers and strong swimmers.

Perth Metro
Teach Learn Grow Inc.
TLG Rural Program – Volunteer Training
and Resources Improvements
A week-long intensive tutoring program run in rural and remote primary schools to help students experiencing educational disadvantage to overcome the barriers they face in achieving their full potential. The Program is led by volunteer university and TAFE students who are recruited, trained and equipped to deliver one-on-one free tutoring programs that improve educational and attitudinal outcomes for students experiencing educational disadvantage.

State-wide
The Concrete Club Incorporated
Deadly Skate Connections
Providing practical tools and education around mental health wellness whilst also incorporating the physical and mental aspects of roller skating in order to build capacity for the participants.

South West
The Skill Engineer Ltd.
Blackman Block Engineering Shop
A social enterprise initiative that invites schools and service providers to refer school non-attenders to partake in engineering and other STEM activities that takes them out of the classroom, relocates them in an engineering/ factory situation and requires that they produce metal products such as water features, electric scooters, fire pits, metal furniture and bespoke sculptures.

Kimberley
TransFolk of WA Inc.
Building Cultural Safety and Responsiveness at TransFolk of WA
Establishing a First Nations advisory group within TransFolk of WA, the group will primarily include young trans First Nations people and community leaders. This will ensure the actions TransFolk takes to become more culturally safe and responsive, are directly driven by the voices of young First Nations people. The project will also involve developing a roadmap towards cultural safety from the discussion of the advisory group.

State-wide
Walpole Community Resource Centre (Inc)
Beyond Borders

Providing engaging and inclusive activities for young people during school holidays in a remote rural area, promoting mental well-being and combatting social isolation.

Great Southern
United Nations Youth Western Australia Inc.
The Pilbara Young Citizens Project
Consisting of several one-day school visits to schools across the Pilbara, delivering workshops and UN Youth's flagship Diplomacy Simulations and Model United Nations sessions, the activities will aim to educate students and empower them to participate as active citizens in their local and global communities. These experiences will provide a unique way for students to build their knowledge, skills, and confidence in relation to democracy, contemporary issues, and active citizenship.

Pilbara
Youth Involvement Council Incorporated
Hedland Youth Voice
The Hedland Youth Voice committee is
passionate about getting authentic youth voices and perspectives heard by those in the community who have influence or decision-making power. They want to launch their brand with the reveal of their completed strategic plan and share information gathered with the wider community.
Pilbara
Congratulations to all the successful recipients.
The Youth Sector Grants Scheme is supported by Lotterywest.