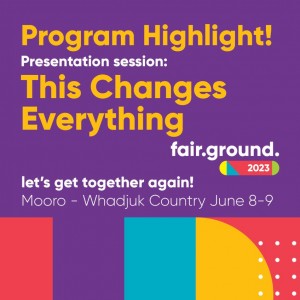 To kick off our Program Highlights, we're looking at one of our Presentation Sessions: This Changes Everything.
Over Thursday's session of This Changes Everything we'll be hearing from: the team behind Freedom State on The Changing Face of Youth Work, their multi-level community capacity building initiatives and the changing landscape of telehealth for isolated and marginalised LGBTQIA+ young people.
In Small Town, Big Impact Emily Cole examines how organisations and services operate differently in a small town and discuss how best to support and engage young people in those spaces.
The team behind the Passages Youth Engagement Hub join us to discuss their innovative new service The Compass Outreach Program, supporting young people across Perth and Peel who have experienced significant and persistent disadvantage due to complex trauma, in navigating the systemic barriers faced daily.
Food For Thought: Starting The Day Right At The Children's Court, takes a look at The Court Breakfast Program delivered by Hello Initiative and discusses how providing a nutritious breakfast to young people and their families can ease upset and help with focus and engagement.
Friday's session of This Changes Everything will feature a small panel on the Home Stretch WA Trial, discussing the benefits of providing young people leaving out of home care in WA with the option to continue to receive support up until the age of 21.
Can You Have A Long Career In Youth Work? John Sutcliffe can tell you! He discusses the lived experiences of long-term career youth workers and the findings of research conducted in WA throughout 2020, proposing a provisional model of youth work as a long-term career.
Perth Inner City Youth Service joins us to discuss theoretical understandings of youth work and practical recommendations for An Affirmative and Holistic Model for Working With Young People In Crisis.
Co-founder of We Are Womxn, Kate Raston closes the This Changes Everything Presentation Sessions. Kate will share her experience in founding an evidence-based, trauma-informed educational organisation for young women in WA and discuss how we can engage and empower those young women to lead positive and healthy lives through honest conversations, engaging educational initiatives and the creation of safe spaces.
Doesn't that sound like a great session?! Check out the full program for more info.
Don't miss out, get your tickets to fair.ground. 2023 now!