Key Resources
Info about the Voice to Parliament
Referendum Community Toolkit
https://voice.gov.au/sites/default/files/2023-05/voice-referendum-community-toolkit-fact-sheet-english.pdf
What is the indigenous Voice to Parliament?
https://www.abc.net.au/news/2023-05-15/what-is-the-indigenous-voice-to-parliament-referendum-australia/102317242
Reconciliation- Support a Voice to Parliament
https://www.reconciliation.org.au/reconciliation/support-a-voice-to-parliament/
Uluru Statement Resources
https://ulurustatement.org/education/faqs/#:~:text=The%20Uluru%20Statement%20says%20that,the%20land%20and%20its%20people.
Together Yes
Info about Referendums
https://www.aec.gov.au/faqs/referendums.htm
Explainer Videos
ABC News In depth
https://www.youtube.com/watch?v=RCnv3G0rDLo
Behind the News
https://www.youtube.com/watch?v=r5_3Q6PU_qY
Watch Uluru Youth Dialogue
https://www.youtube.com/watch?v=BispkQnH_QE
Upcoming Events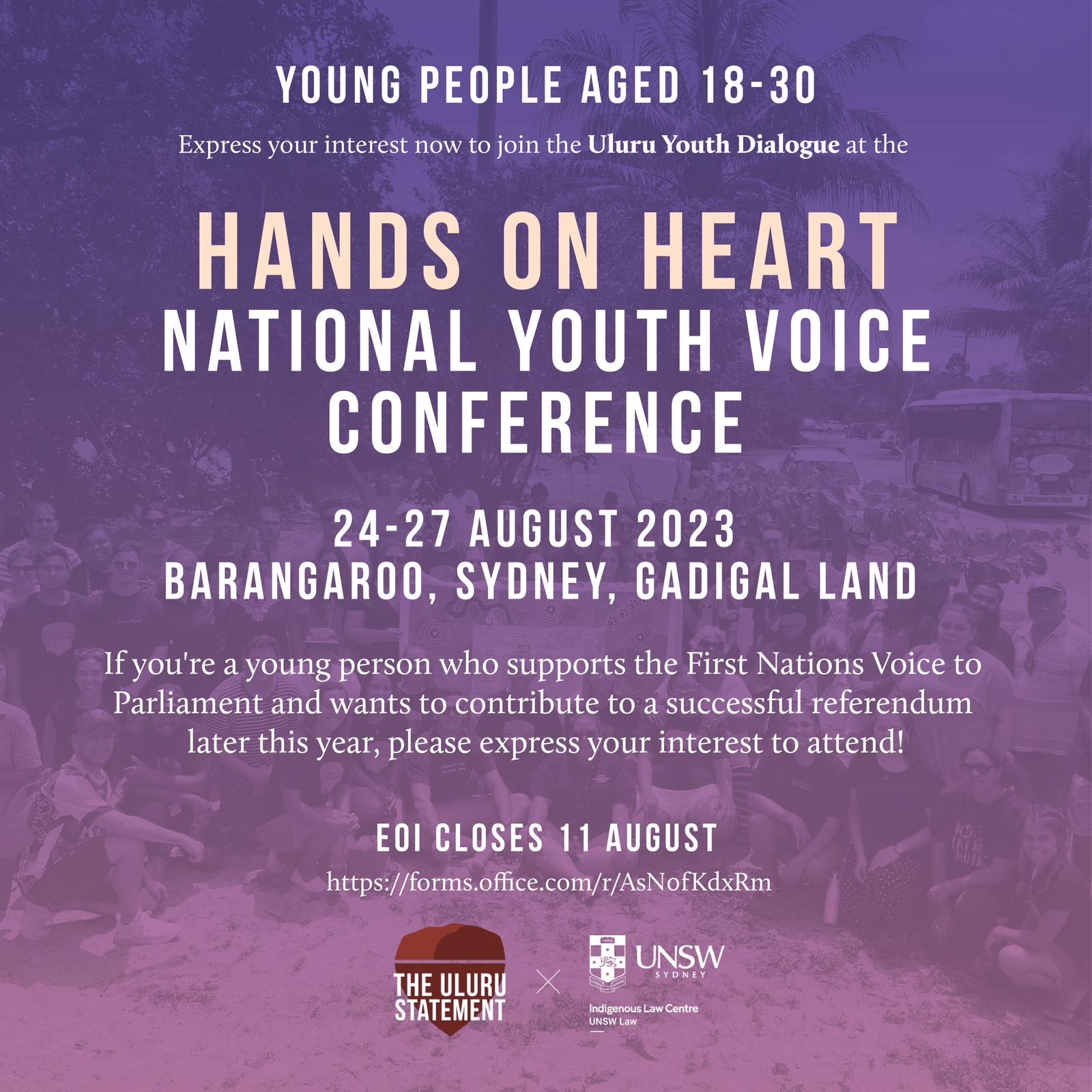 Hands on Heart National Youth Voice Conference 24-27 August.
All young people 18-30 who are passionate supporters of First Nations Voice are encouraged to express their interest to attend this 3 day youth leadership conference. This is a great learning opportunity focusing on the crucial role young people will play in a successful referendum on the Voice.
This event is led by youth, for youth and is coordinated by three leading national youth organisations &
Uluru Youth Dialogue (the First Nations and only youth-led Voice Campaign).
If you are a young person, please express your interest via the link below:
https://forms.office.com/r/AsN0fKdxRm
Join GetUp! for nationwide conversation training to get the tools and messaging principles you need to be a part of the movement that will win this referendum.
Date: Saturday 19 August
Time: 8:00am – 10:30am WST (10:00am -12:30pm AEST)
Location: Online
Cost: Free
Reconciliation WA are holding regular Uluru Statement Community Briefings to help people feel informed, as we walk towards a future referendum on establishing a Voice to Parliament.
Date: 29 August, 28 September, 12 October, 21 November
Location: Online and face-to-face at Reconciliation WA, 40 Havelock Street, West Perth, Whadjuk Noongar Boodja
Cost: Free
Join the movement for Yes! There are many opportunities to get involved with the Yes23 campaign to support the sharing of information and supporting the campaigns goals. For all Yes23 events and volunteering opportunities, visit action.yes23.com.au/events and browse events in your state, region or town, or online only events.
Building Confidence | Conversations about the Voice (online training) – Thursday 10 August
Handling Objections (online training) – Tuesday 15 August
Voice to Parliament Yarn, Red Dust – Wednesday 20 September
There are many more opportunities available on the Yes23 website.
Stay up-to-date on volunteering activities and register to get involved.
Acknowledge This! is hosting workshops for people to understand the proposed changes to the constitution, ahead of the referendum. Acknowledge This! are known for fun and interactive training on delivering authentic Acknowledgement of Country.
Date: 25 August, 19 September
Location: Online
Cost: $40 (+ booking fee)